Pret A Manger and Bournemouth businessess commit to Prince William's Homewards Programme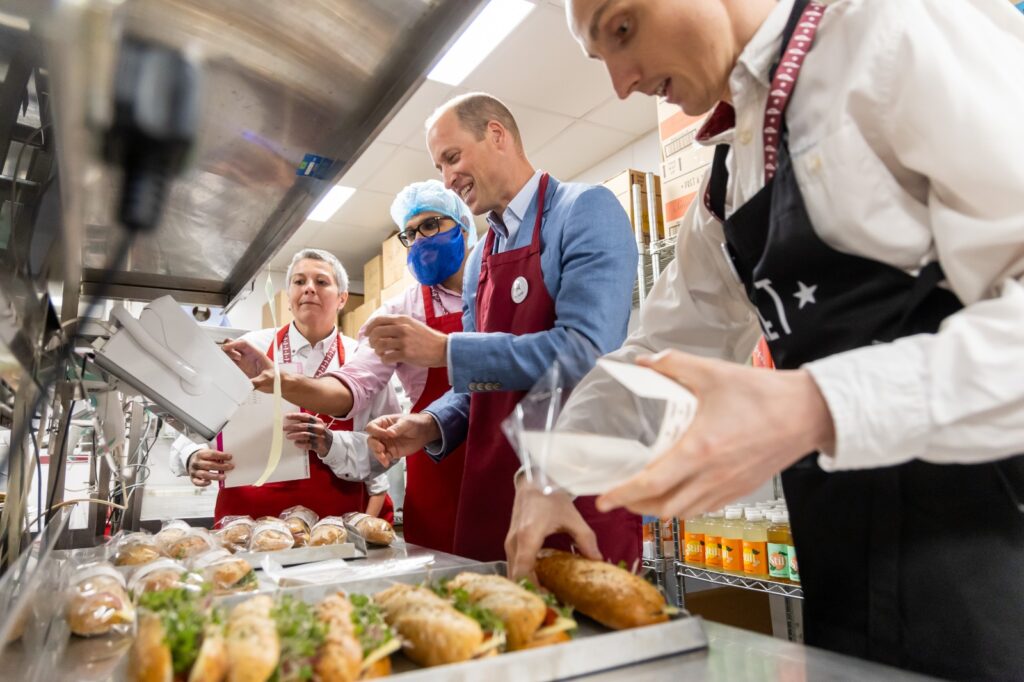 Prince William visited Bournemouth, one of the six flagship Homewards locations, to meet with local and national businesses, all of whom have pledged their support to the Homewards programme and to playing a role in demonstrating that it is possible to end homelessness – making it rare, brief, and unrepeated.
In a visit to Bournemouth's Pret A Manger shop His Royal Highness, accompanied by podcaster, entrepreneur and newly announced Homewards Advocate Steven Bartlett, heard about the company's commitment, through its role as a Homewards Activator, to expand its long-standing Rising Stars programme. Over the next five years, The Pret Foundation's Rising Stars programme, which helps break the cycle of homelessness by providing support, training and employment, will see a 40% expansion, supporting at least 500 people experiencing or at risk of homelessness into jobs at Pret's UK shops, including in Homewards flagship locations where Pret has a presence.
The Prince also visited AFC Bournemouth's Vitality Stadium to hear about the Club's ongoing work in the community to support those at risk of homelessness, and commitment to expanding their projects as part of Homewards.
Prince William, Steven Bartlett and AFC Bournemouth then joined a roundtable with representatives from local businesses and other national organisations with a presence in Bournemouth, Christchurch and Poole. Attendees include The Pret Foundation, Sunseeker International, Lush, Dorset Chamber, Bournemouth Town Centre BID, BCHA and Bournemouth and Poole College.
All the businesses at today's roundtable are coming together for the first time to pledge their support for Homewards and share a commitment to end homelessness in the area, starting by creating employment opportunities, investment, and a range of other initiatives.
Today's visits follow on from the launch of Homewards in June. A five-year locally led programme, created by The Prince and The Royal Foundation of The Prince and Princess of Wales, Homewards is taking a transformative approach to the issue of homelessness. With collaboration at the centre of its mission, Homewards will give its six flagship locations, including Bournemouth, Christchurch and Poole, new space, tools, and relationships to showcase what can be achieved through a collective effort focused on preventing homelessness in their areas. The potential of the programme to drive forward change and galvanise national momentum on the issue of homelessness has been demonstrated by the response the programme has received since June, with individuals, organisations and initiatives from across the UK, and beyond, getting in touch to explore what they can do to support Homewards.